YOU´RE LOCKED INTO THE...
SOUL UNDERGROUND

Every Saturday Night to Early

Sunday Morning for soon 28 years,

from 12.15 - 5.30 am (Swedish Time/CEST),

the BigDog DJ JENS DÜNKELBERG

aka #GucciBoy aka #BapeBoy presents

THE legendary SOUL UNDERGROUND

SHOW LIVE @ Västerorts / Westside Stockholm´s

original urban radio station MRS 90½ .
THE SOUL UNDERGROUND SHOW is the ONLY

UPFRONT RAP & STREET music radio show in

Sweden, pl-playing the best br-brand new HIP-HOP,

DIRTY SOUTH / TRAP RAP / DRILL and slow bangin R&B

joints from the USA + as well we represent 4 our

own ever growing Swedish street rap and r&b scene

every time. PLUS now also spinnin´ dancehall reggae.

THE SOUL UNDERGROUND SHOW got started

in MARCH 1996 and apart from blasting it off with

the hottest music we also have featured a lot of

BIG guest artists, DJ´s and celebrities.

Interviews on the show include YOUNG JEEZY,

DJ DRAMA, JAY-Z, JUELZ SANTANA of DIPSET,

THE GAME, SHAWTY LO (R.I.P.), TEENEAR, WILLIE

THE KID, SKRILLA KID VILLAIN of EUROGANG,

NUTSO, CEE DA CUBAN, JIN, BIG V, OVACEAS of

MICROPHONE TERRORISTS (R.I.P.), B.A.R.S. MURRE,

NINA SKY, PAPOOSE, MULAN V, KIARA SIMONÉ,

SAYONNE, MR. DONT KNOW of THE BLACK WALL

STREET, K-CI & JOJO of JODECI, NU COLOURS,

Scandinavian professional heavyweight boxing

champion ALDO COLLIANDER, internationally

renowned adult model and vegan poledancer

AMINA AXELSSON plus Swedish artists like

KEN RING, HOUMAN SEBGHATI, BIG FRED (R.I.P.),

RASTEGAR (R.I.P.), THE LATIN KINGS, DJ SLEEPY,

KARTELLEN, ISON & FILLE, IVORY, JAQEE, BLEN,

DC GRIMSTA, DOLLAR BILL, IMAN RUSS, RICHIE

RIOTT, OWG MANNEN and CEDD & JEFF to name

just a few of the many.

Through the years THE SOUL UNDERGROUND

SHOW has also featured many mixes by some of

the most renowned hip-hop mixtape & club DJ´s in

the world, like DJ KAYSLAY (USA, R.I.P.), BIG MIKE

(USA), DJ CRONA (Sweden) and DJ PHAT SAM (U.K.).

SOUL UNDERGROUND
__________________________________________

BIG DOG DJ JENS

TOP 10 JOINTS ON THE STREET

HIP-HOP / TRAP RAP

- DECEMBER 10th 2023

1. RICK ROSS & MEEK MILL "Shaq & Kobe"

- Original Explicit Version

(Produced by FRESH AYR & D-MO)

(Maybach Music Group/DatPiff U.S.

mp3 promo) (pitch adj. -4)

2. YASIN "Stockholm, Sweden"

(Produced by NICODEEMI & PRODBYJACKIE)

(YasinTheDon SWEDEN mp3)

(pitch adj. -4)

3. 24K "Sluta Prata"

(Produced by H.H)

(24K SWEDEN mp3)

(pitch adj. -4)

4. BIG MOOCHIE GRAPE "Workin"

(Produced by BANDPLAY)

(Paper Route/EMPIRE/DatPiff

U.S. mp3 promo) (pitch adj. -4)

5. ERICA BANKS feat. GLOSS UP

"Talmbout Nun"

(Erica Banks/Flow Queen U.S.

mp3 promo) (pitch adj. -4)

6. ** ****** "????"

(Produced by ???? ????)

(******* ***** U.S. unreleased mp3 leak)

(pitch adj. -4)

7. 23 "Kod Röd"

(Produced by SHENZI BEATS)

(23 Officiell SWEDEN mp3)

(pitch adj. -4)

8. GULEED "Brothers Keeper"

(Produced by ANDREAS FEJER)

(Malmö New Wave SWEDEN mp3)

(pitch adj. -4)

9. RUNDOWN SPAZ x

YOUNGBOY NEVER BROKE AGAIN

"First Day Out" - Youngboy Edition

(DatPiff U.S. mp3 promo)

(pitch adj. -4)

10. PLIES "Choke" - Strip Club Priority

(Big Gates Records/

DatPiff U.S. mp3 promo)

(pitch adj. -4)
BIG SHOUT OUT THE DJ JENS MAIN

URBAN MUSIC SUPPLIERS:
_________________________

#GucciBoy R&B TOP 10

SLOW BANGIN´ STREET RnB / RAP

- DECEMBER 10th 2023

1. VSN BLACK "In The Mood"

(R&B Lounge U.S.

mp3 promo)

(pitch adj. -10)

2. SHANNA KRESS "Foreign"

- Strip Club Priority

(Just Kress Music/digiwaxx.com

U.S. mp3 promo)

(pitch adj. -6)

3. DAMANI "Players Diary"

(R&B Lounge U.S.

mp3 promo)

(pitch adj. -4)

4. ROANN "When We"

(R&B Lounge U.S.

mp3 promo)

(pitch adj. -4)

5. EMMA LIAMBI "Deep"

(Produced by KAYLIN PAYNE & JOHN ALEXIS)

(Emma Liambi SWEDEN mp3)

(pitch adj. -4)

6. TINK "Save Your Soul"

(Produced by HITMAKA)

(Winter´s Diary/WD Records/EMPIRE Vinyl LP cut,

off the TINK U.S. Berry Tie-Dye Vinyl Album

"Thanks 4 Nothing") (pitch adj. -4)

7. TORICA "A Whole Mood"

(ToricaVEVO/MP3Waxx.com

U.S. mp3 promo)

(pitch adj. -4)

8. BUDDY VON "Love & BS"

- Video Dirty Version

(Red Agency/Virdiko Global Music Promotion

U.S. mp3 promo) (pitch adj. -4)

9. MUNI LONG feat. ANN MARIE "No R&B"

(Produced by AP)

(Supergiant Records/MPR Global/Def Jam recordings

Vinyl LP cut, off the MUNI LONG U.S. Vinyl Album

"Public Displays Of Affection") (pitch adj. -4)

10. LIL POPPA "Nobody Likes Me"

(Produced by FlexOnDaTrack & EAS)

(CMG/Interscope Records/DatPiff

U.S. mp3 promo) (pitch adj. -4)
WARNING! OUR MISSION IS TO SL-SLOOOOW

DOWN THE WO-WOOORLD...DJ SC-SCREW R.I.P....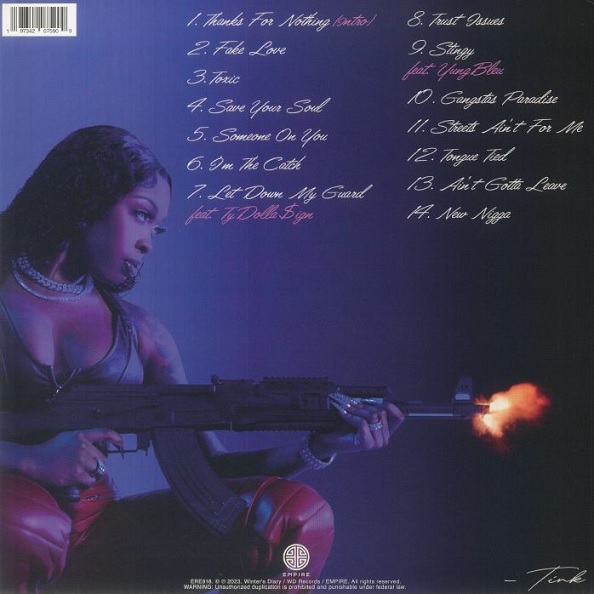 _________________________

DJ JENS BASHMENT SELECTION

JAMAICAN DANCEHALL REGGAE

- DECEMBER 10th 2023

1. 10TIK "Insect"

2. KYODI "Double Barrel"

3. QUAN & HERBALIS "Save Me"

4. IKEED "Shoulder"

5. V8NAM "Dark Out"

6. ONE DON "Genuine"

(All tracks on the "Insect Riddim" courtesy of Deki Records/

Rapid Production/Riddims World Jamaica DJ mp3 promos)

(All joints pitch adj. -4)
_________________________

MIXTAPE No.1 ON THE STREET

U.S. HIP-HOP - DECEMBER 10th 2023

1. JIM JONES x DJ DRAMA

"Gangsta Grillz: We Set The Trends"

- Various Cuts

(VL Records/EMPIRE/GangstaGrillz/datpiff.com/

flybeats09 U.S. mixtape promo) (pitch adj. -8)
SOUL UNDERGROUND

LIVE SHOW NEXT
Saturday Night to Early Sunday Morning

December 10th 2023 (Natt Mot Söndag Morgon)

(12:15 am - 5:30 am Swedish Time/Central European Time)

(Saturday December 9th 6:15 pm - 11:30 pm U.S. ET)

DJ JENS BACK LIVE

blasting off REAL BIG on MRS 905

spinnin´ that HOT NEW SL-SLOOOW

S**T ba-baby ba-baby ba-baby......

Listen @ MRS 90.5 FM (Västerort, Stockholm, Sweden)

or listen Everywhere World Wide Here !

(Please Note: Parental Advisory - Strong Language)
** STREET RAP n R&B EXCLUSIVE **

LISTEN TO DJ JENS / SOUL UNDERGROUND

CLASSIC BROADCASTS FROM 2011 - 2023

DYGNET RUNT / 24/7 right HERE !

(Please Note: Parental Advisory - Strong Language)
THE SOUL UNDERGROUND SHOW

@ MRS 90.5 FM

#KeepinItSlowSinceMarch1996

- VI GÅR INGENSTANS !

ALWAYS REPPIN DA REAL- SNART 28 ÅR i LUFTEN !

#InNewQualityStreetMusicWeTrust...

...WE OFFICIALLY BREAK RECORDS !

MOT SLUTET AV DAGEN / AT THE END

OF THE DAY D VI SOM SÄ-SÄTTER

ALLA TR-TRENDER...DON´T GET IT

TW-TW-TWISTED...
Check out DJ JENS and

THE SOUL UNDERGROUND SHOW

in various Swedish newspapers and other

media old and new CLICK HERE!
----------------------------------------------------------------------------------
More info on the DJ JENS

(Swedish only) CLICK HERE!
----------------------------------------------------------------------------------
Make Sure U follow the Big Dog DJ JENS

doin it real BIG on X 24/7 CLICK HERE!
----------------------------------------------------------------------------------
Peep the DOPE DJ JENS yacatchme

blog feat. our #OnceWereGood #yacatchme

models and much, much more...

Check it @ yacatchme.com
----------------------------------------------------------------------------------
DJ Jens is on instagram as well

- follow here: BIGDOGDJJENS!
----------------------------------------------------------------------------------
Mer info om DJ EMAN aka DJ E!

(Swedish only) KLICKA HÄR!
----------------------------------------------------------------------------------
Check this CLASSIC VIDEO from THE SOUL

UNDERGROUND SHOW November 2010,

with the DJ JENS alongside special guests

MELIKA of DuVetInte.se & Sweidsh

rapper FINESS CLICK HERE!
----------------------------------------------------------------------------------
For some craaaaay VIDEOS from our HOT

party called SOUTHERN HOSPITALITY @

Club K2 way back in March 2010 in Stockholm

featuring DJ JENS, DJ EMAN, Nordic Steel

artists IMAN RUSS, JAH KNIGHT &

ADVANCE + hot stripper CHEETAH + more
----------------------------------------------------------------------------------
Peep some pics from the WRAPEM hip-hop

party in Stockholm back in January 2009

@ Club Metro, promoted by DJ JENS

alongside MICHEAL CAMBELLO @

OnceWereGood CLICK HERE!
----------------------------------------------------------------------------------
Watch some old classic pics with the

DJ JENS alongside the Nordic Steel family

of artists in the MRS studio 2008 & 2009
BIG DOG SHOUT OUTS

DECEMBER 2023

1st of all I would like to give MAD props to ALL MY SOUL

UNDERGROUND listeners (past & present) out here in

Stockholm - och framförallt alla i FÖRORTEN & VÄSTERORT

WESSSSSSIDE BABY en FET BIG UP and thanks 4 tuning

in LIVE EVERY late night Saturday - special shout out till alla

dom fl-flummiga gu-guzzar in the hood - U know who U are.....

.....as well biggin´ up ALL my Swedish & INTERNATIONAL

listeners all over the world - U know I appreciate the support,

don´t get it tw-twisted..........and to my No.1 inspiration as a radio

DJ, the mighty TIM WESTWOOD out of London, England

BIG UP YOUR STATUS..........as always as well shout out all the

ST-STRIPPERS in the Ci-City STHLM CITY and World Wide

+ all CAM GIRLS supporting me, keep stackin that $$$$$ ladies,

FUCK THE HATERS..........shouts to **** ******* & Omerta Inc.....

.....to the man like the TEE PROMO + ASHLEY and everybody @

the now defunkt PROMO CARTEL record pool in London,

England - X amount of respect and thanks 4 all dem HOT U.S.

vinyl promo exclusives those 8 years April 1999 - April 2007

RESPECT !!!..........big up to man like DJ FORT KNOX - tack för

allt back in the day..........and THANK YOU MY #VEGAN

BRO MICHEAL CAMBELLO 4 EVERYTHING AND SHOUT

OUT ALL THE VEGANS OUT THERE WORLD WIDE...props till

alla som supportade vårt VeganAfton #6 event senast...props till

DJURENS RÄTT och DJURRÄTTSALLIANSEN..........and BIG UP

ANDERS LARSSON FAM & HELSINGPHOTO KINGEN and

as well shouting out ALL OUR BEAUTIFUL FEMALE MODELS -

#OnceWereGood #yacatchme is da name..........also

me Jens I wanna holla @ CEE DA CUBAN and my man

NUTSO #NoLabelJustUs, Flushing, Queens, New York City.....

.....and of course U know I gotta give a shout out to ALL OF DA

DIRTY SOUTH - U really took hip-hop to da future - strikkkkly

ridiculuuus off da chaaaaaaain ain´t got nuttin but LUUV 4 ya

R.E.S.P.E.C.T...........shout out man like KINFOLK KIA SHINE,

LIL WAYNE, ROSCO, GRANDADDY SOUF, the D Block General

JADAKISS, the legendary EPMD, CRAIG G, BOUNTY KILLER,

JR WRITER (DIPSET), JENNIFER LOPEZ, JIN, DAMAR JACKSON,

DJ SPINNA, TJ BOYCE, BIG V, MANNY MAN, LADY ETHER,

FELICIA FAYE, MAD LION, NINA SKY, NICKI MINAJ, TEEDRA

MOSES, MACEO of DE LA SOUL, KARTELLEN, TEENEAR,

K-MAJOR, YOUNG JEEZY, PETTER, DJ GREEN LANTERN,

TIKKO, ANGELIQUE SABRINA, my doozy SKRILLA KID VILLAIN

fam (of Eurogang), NAS, SY ARI DA KID, OVACEAS (R.I.P.) and

the MICROPHONE TERRORISTS crew (NewBagGang/MTL Group The

Label) in da BOOGIE DOWN BRONX NYC, RICK ROSS, MATTHEW

SCHULTZ, DJ DRAMA, B.A.R.S. MURRE, KELOW, 2RU LUV +

MANY other artists, DJ´s etc out there - BIG UP 4 all those super

hot RADIO DROPS peoples..........BIG BIG shout out all of my

URBAN music suppliers out there in the USA; DIGIWAXX.com,

Ken Cashman/InAvator, DatPiff.com, Virdiko Global

Music Promotion, MP3Waxx.com + our VINYL SUPPLIER

JUNO RECORDS U.K. and EVERYONE sendin´ us music

out there..........shout out DIANA SCHWEINBECK Atlanta,

Georgia, SALUTE..........big up all independent & PIRATE

broadcasters & webcasters worldwide playing nuttin but black

music & dance music, wherever U are, keep doin´ what ya doin´

- shout out all pirates/community radio stations in London, England

and all over the U.K. + all pirates out of Florida, USA & Brooklyn,

New York City..........shout out the DJ DRAMA aka MR THANKS-

GIVING, DJ SCREAM, DJ HOLIDAY & all of da hip-hop MIXTAPE

community in the USA and all over the wo-world..........SHOUT

OUT THE ONE AND ONLY LEGENDARY HIPHOP RADIO DJ #1

FUNKMASTER FLEX of HOT97 NYC - still doin it BIG after

all these years INCREDIBLE..........wanna big up man like the JM in

London, England (Touch Magazine early 1990´s) who got me

deeeep into those mellow 2-step/connoisseurs style r&b beats.....

.....wanna kick a phat SL-SLOOOOOOOWWW shout out the

le-legendary DJ SCREW R.I.P...........shout out the Swedish

Urban Music INSTITUTION that is REDLINE RECORDINGS

i Norsborg Söderort Stockholm..........sen vill ju förstås även bigga

upp my old friend DJ EMAN - E mannen gav The Soul Underground

Show lite SVENSK hip-hop flava, EXACTLY! - followed by dat

TRAP RAP DIRTY SOUTH style, yacatchme ??!!..........props till

West Coast PETE + lady like GOL i Kallhäll/Järfälla.....

.....sen vill ge fett me CRED till alla gaaaaalna graffiti

målare därute - fortsätt bara göra d Ni gör..........ett stort

STOOOOOORT tack GåR ALLTID UT till LARSA @ Affärs- &

Tidskriftstryck i Vallentuna AB, PLUS shouts till alla som hjälpt

mig sätta upp #SoulUnderground stickers/klibbor över hela stan +

förorter genom åren..........sen vill ge fet respekt till MUHAMMAD

å alla lyssnare i Upplands Väsby & Vallentuna ..........shout out all

my East Asian listeners in CHINA & INDIA Sunday Mornings.....

.....shout out ANDERS STRÖMGREN fam - tack för all

grym promo back in da day på twitter #StreetTeam..........sen big up

också till alla lyssnare bakom lås & bom + alla som har nån

anhörig som sitter också - GE INTE UPP..........shout också till

alla som gått bort Vila i Frid / R.I.P...........big shout out as well the

IMAN RUSS & all of the NORDIC STEEL FAMILY.....

.....props till KLUBBKOLL.se back in the day.........wanna holla

@ my main man & regular guest back in the day DJ PHAT SAM

out of Birmingham (U.K.) BIG UP YOUR STATUS FAM..........NUFF

respect går förstås ALLTID ut till hela DJURGÅRDSFAMILJEN

- LITE FINARE LITE BÄTTRE..........och till alla supportrar till

mitt ANDRA favoritlag THE MIGHTY BRONX BOMBERS NEW

YORK YANKEES - SALUTE !!..........big upp också till alla roliga

människor som jag jobbade natt med på POSTTERMINALEN

STOCKHOLM ÅRSTA 1999- 2011, en speciell hälsning går ut till

SEREN & GÖNÜL - var så jävla KUL å jobba med er några JULAR

för länge sen..........mot slutet förstås måste skicka ut FETT me

RESPEKT till alla andra GRYRRRRYMMA DJ´s här på stationen

MRS 90.5: bl a DJ JOAQUIM of Made In Brazil yeeezzzzzz baby

MRRRRRRRRRRRSSSS, HåKAN "TROUBLE" ANDERSSON,

ASHMAN SOUNDKILLA "Reggae Attack Show", Scott Whichello,

DANIELE SORIANI, DJ HEAVY and the SGZ out of South Africa.....

.....and as always biggin up my hard workin Station Manager

GAGARIN - thanks 4 makin´ it all happen here on the one &

only MRS905 for a now incredible 43 years; OCTOBER

1980 - DECEMBER 2023 - R.E.S.P.E.C.T......

.....wanna shout out as well the biggest love of my life: HIP-HOP.....

.....och så till sist vill jag bigga upp min tuffa lillasyster RANI

DÜNKELBERG 1971 - 2003 R.I.P. jag älskar dig syrran du e

fortfarande med mig..........shout out också till MORSAN BIRGIT

1931 - 2018 R.I.P. älskar dig med förstås..........och till alla som

jag e.v. glömt å nämna - SORRY..........from me the One & Only

#BapeBoy aka #GucciBoy aka BIG DOG DJ JENS aka

#WhereMyOffWhiteTeeAt?.....27 YEARS AND RUNNIN ON

THE AIRWAVES.....SNART 28 ÅR I LUFTEN.....

.....I´M OUT, 1!
DJ JENS WEBSITE LINKS
DJ JENS / SOUL UNDERGROUND
HOLLA @ THE BIG DOG:
In Sweden: 070 7982779
International Phone: +46 70 7982779
e-mail: jensunderground@hotmail.com
© 1996 - 2023 SPÅNGA MUSIK & KULTURFÖRENING

(Updated December 5th 2023)